Rahmco
Rahmco is a young and dynamic company which was born in 2005 and it is set in Arzignano, the worldwide leather district.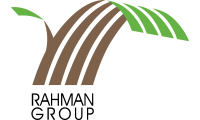 It's the outcome of a project which has the aim to bring innovation into the leather market. Despite its youth, the company has solid basis thanks to the twenty-year experience in the tanning world of Dr. Giovanni Cisco and the deep knowledge of the leather market of the Rahman family.
Rahmco is part of an international group called Rahman Industries Limited which is set in Kanpur (India).
During these years the company has focused its business on upholstery leather, but in order to be more competitive has started to adquire also a strong know how in leather goods, footwears, safety footwears and automotive.
Rahmco uses mostly buffalo hides of asiatic origin and cow hides of european origin, but it can also supply raw material from other parts of the world.
In 2014, the partners invested in a new headquarter with an innovative show room and 2.000 mq of warehouse, in order to give faster and faster answers to customer needs and to reduce the lead time of delivery.
An intense inclination toward international markets together with the previous features has helped Rahmco first to emerge and then to assume a key role in the worldwide leather market.